A journey along the trail of Warmian and Masurian delicacies
In addition to their unique natural features and a wide variety of attractions, Warmia and Masuria also offer a plethora of regional dishes and flavours worth sampling. Find out what is particularly worth tasting.
Kartacze (potato dumplings)
So far, Gołdap is the only town in the region boasting a health resort status. It is also part of the Cittaslow network. Due to its location on the border, it has developed unique culinary traditions, combining the influences of various ethnic groups. The most characteristic local dish are the kartacze. They come in the form of large oval-shaped dumplings about 10 cm long, prepared from raw potatoes with a small addition of boiled ones. They are stuffed with boiled pork with a touch of onion, garlic and marjoram. They are usually served with bacon cracklings and fried onions. It was in Gołdap that the World Centre of Kartacz Gourmets was established a dozen or so years ago and this is where the Kartaczewo Borderland Festival takes place, offering an excellent opportunity to taste the best kartacze in the region. Other places where you can eat kartacze include the Matrioszka restaurant in Gołdap and the Młyn bar in Banie Mazurskie.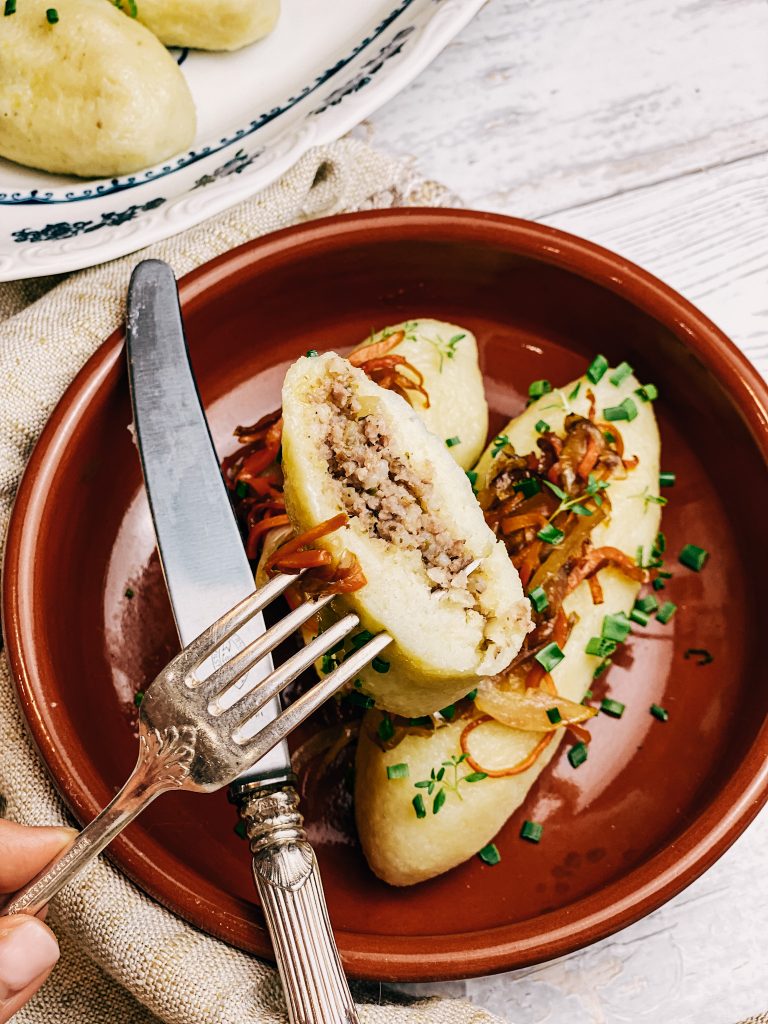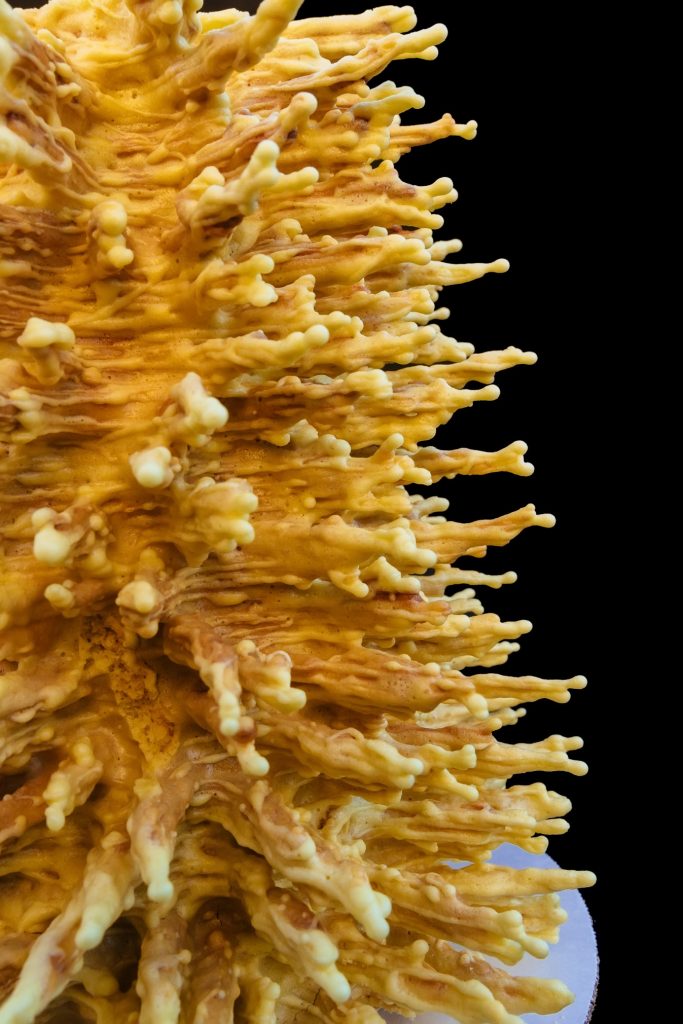 Sękacz (spit cake)
Sękacz is our suggestion for dessert. This cake roasted on an open fire was listed as a Traditional Product in 2020. It was included in the category "Bakery and confectionery products" as "sękacz from the Romincka Primeval Forest". Sękacz can be roasted only on a rotating roller spit suspended over a fire lit from hardwood. To prepare the dough for the cake, you need as many eggs as the number of centimetres you want the final product to be. Most often, the sękacz is half a metre long, so 50 eggs are added to the dough. The distinctive ingredient of the Romincka Forest Sękacz is its arrack aroma, which gives it a characteristic fragrance and taste. The tradition of roasting a sękacz dates back to ancient times. It is best to taste it during the Sękacz Festival, which has been taking place in Żytkiejmy for several years now. You will also find this treat in restaurants and shops around this village.
Karmuszka (beef and cabbage soup)
Karmuszka is one of the most distinctive soups of the region, combining the influences of Polish and German cuisine. Prepared from meat, beans, cabbage and many other ingredients and spices, it bears a resemblance to stew. It is very nutritious and filling. You can taste it in the Cudne Manowce restaurant in Olsztyn, among other establishments.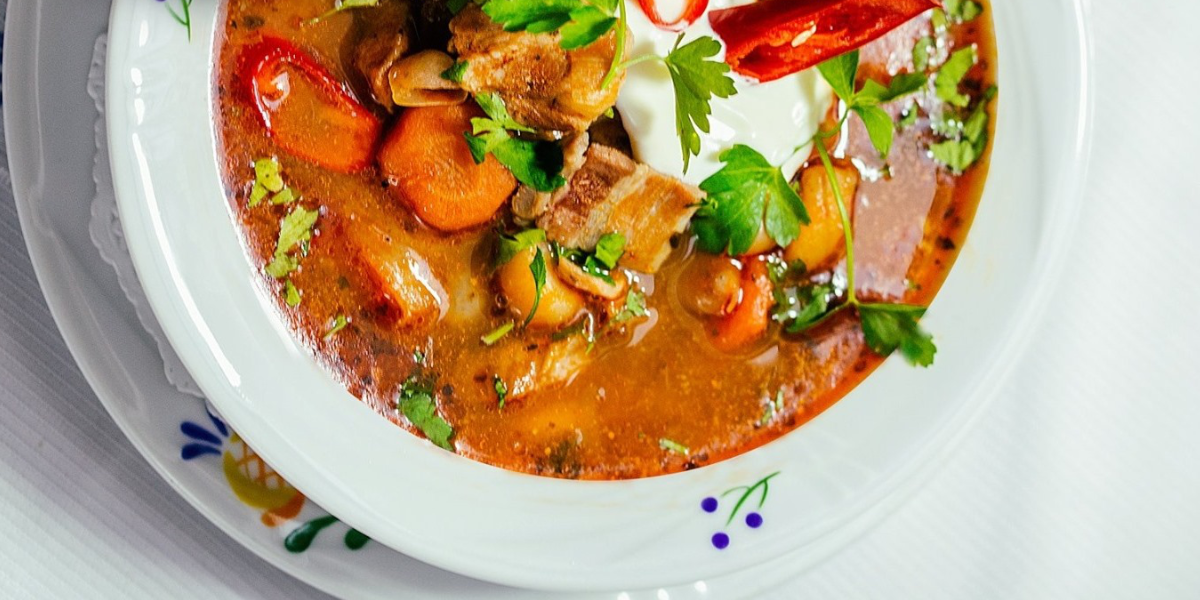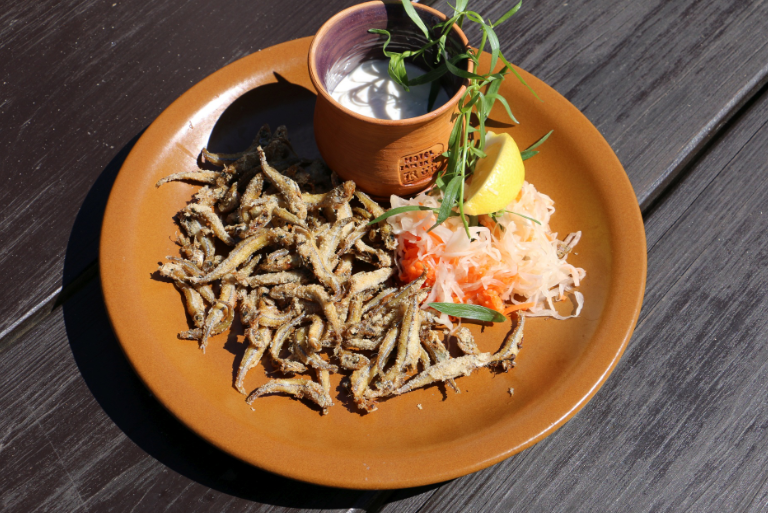 Stynki (smelt) and plińce z pomoćką (potato pancakes with sauce)
For an appetizer we recommend stynki. These are small freshwater fish found in Masurian lakes. Gościniec Ryński Młyn in Ryn is one of the few restaurants that serves stynki all year round. The restaurant also offers plińce z pomoćką, i.e. potato pancakes, fried with smoked meat and topped with a sauce based on sour cream and curd with onions and garlic.
Farszynki (stuffed fried potato-dough pancakes) and dzyndzałki (little dumplings with meat stuffing)
Another tasty option are the traditional potato cutlets with meat and egg stuffing, which are called Masurian farszynki. You can sample them, among others, in the Zajazd pod Kłobukiem in Małdyty. Meanwhile, a typical Warmia specialty are the dzyndzałki – small dumplings with beef, which somewhat resemble Lithuanian kolduny. They are served, for example, in Karczma Warmińska in Gietrzwałd.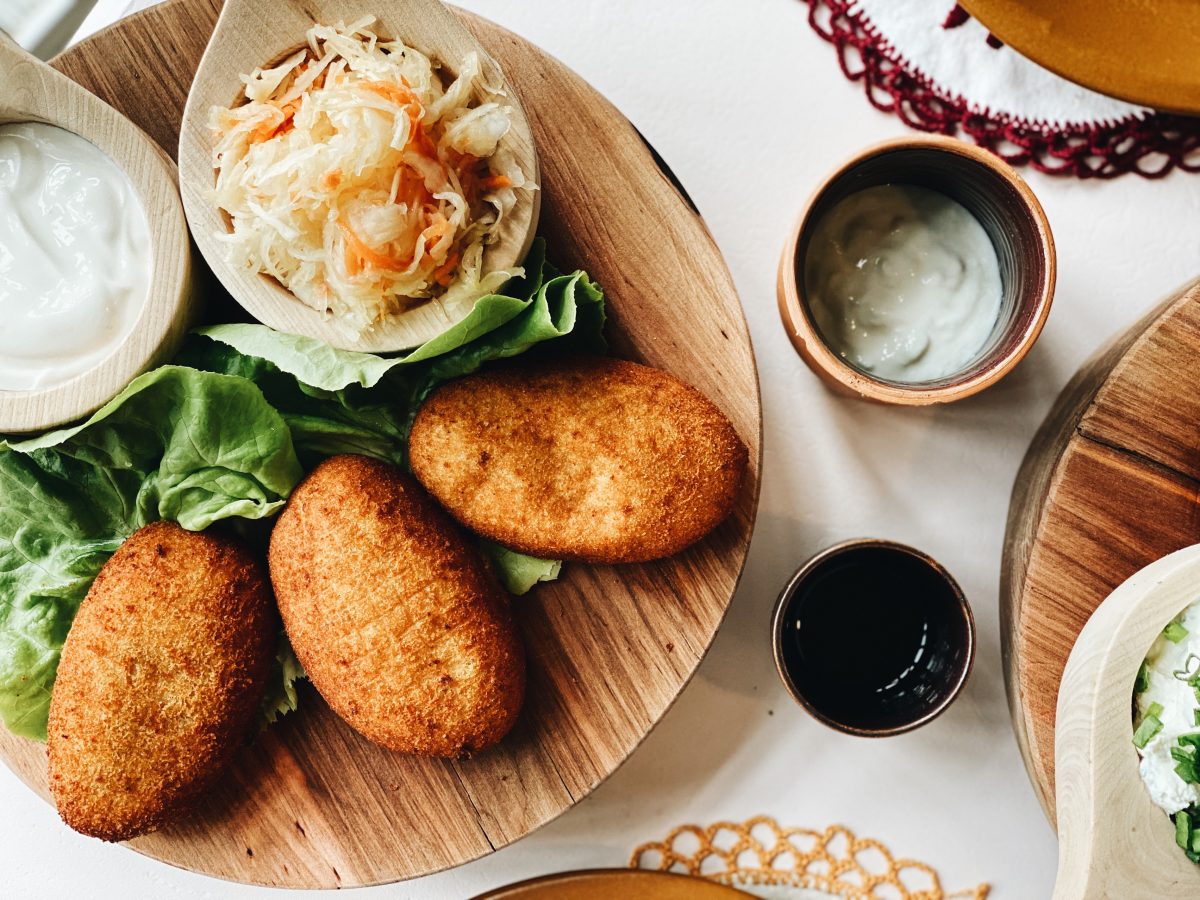 Beers and honeys
If you are a beer enthusiast, we recommend tasting hoppy beverages produced by local breweries – e.g. Olsztyn Kormoran, which offers light and dark beers, top- and bottom-fermented, both classic and the more innovative ones. They are all made in keeping with traditional recipes, from proven ingredients and with artisanal care. Honeys are another noteworthy local specialty. We especially recommend those produced by Mazurskie Miody near Olsztyn. Their permanent offer includes: multiflower honey, honeydew honey, buckwheat honey, linden honey, acacia honey, heather honey, natural meads, as well as vodka and honey liqueur. Regional beers and honeys are available in many local restaurants and shops.
Culinary heritage
When in Warmia and Masuria, it is also worth tasting fish soup, mushroom soup as well as both mushroom and game dishes. They are served by many restaurants, especially those belonging to the "Warmia Mazury Powiśle" Culinary Heritage Network. Each chef has their own secret recipes, so it's worth visiting several places and comparing different flavours. Now that we have showcased such a wide range of culinary options at your disposal, we can only wish you a delicious journey.