Exceptional dishes that you should try in Warmia and Masuria
"Dzyndzałki z hreczką", "plińce z pomoćką", "szmurkul", and for dessert: "brukowiec mazurski" – where to start discovering the cuisine of Warmia and Masuria? The cuisine of Warmia and Masuria combines flavours of old Polish, German and borderland cuisine. It is delicious, natural and simple, yet full of flavour.
Smelt
A tiny fish that's hard to taste elsewhere. Its fishing is only carried out in the winter, when the Masurian lakes are gathering ice. Smelts inhabit some of the region's waters, as they prefer cold waters with a high degree of oxygenation. Smelt's meat has a specific smell, completely different from the typical smell of fish, because it smells of… fresh cucumber.
After frying, these fish are mild in taste and their bones are completely soft. This Masurian delicacy can be tasted in the form of a crunchy miller's smelt floating in sauces or accompanied by salads, cheese toast and mayonnaise sauce.
Dzyndzałki z hreczką i skrzeczkami
Where did the name "dzyndzałki" come from? It's a matter of dispute. This most popular theory is that from tassels (Pl. "dzyndzle"), that is, "ears" on the edges of dumplings. Hreczka is buckwheat, and skrzeczki are popular bacon or pork fat greaves. But don't let this simple explanation fool you, because these are not ordinary dumplings. The whole secret of "dzyndzałki" is inside them.
The buckwheat groats stuffing is enriched with chopped boiled egg, smoked bacon and onion, and the "skrzeczki" additionally contain garlic and marjoram. Warmia people also liked their "dzyndzałki" with beef stuffing, goose, and smoked fish. "Dzyndzałki" undoubtedly made the greatest culinary career of all Warmian regional delicacies.
Plińce z pomoćką
What's behind that name? Potato pancakes with a fluffy filling made of cottage cheese and cream. It is an excellent alternative to potato pancakes with traditional additions.
Warmia and Masuria is a beautiful region and has long been rich in potatoes. The local housewives were able to conjure up a sophisticated dinner and sweet dessert from them.
And "plińce z pomoćką" is a glimpse of the championship in preparing potatoes. Soft, crispy, delicious potato pancakes accompanied by cream and cottage cheese are an obligatory culinary "to try" dish during culinary journeys through the lands of Warmia.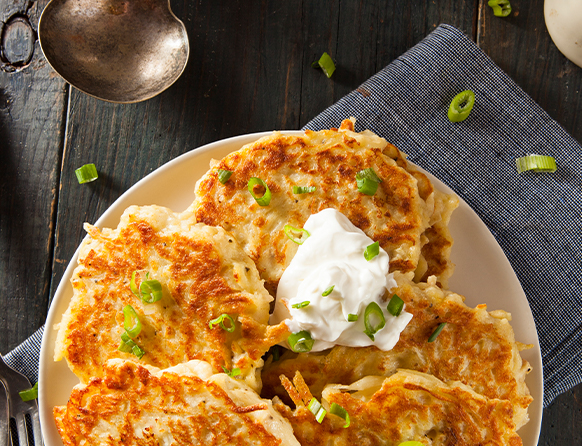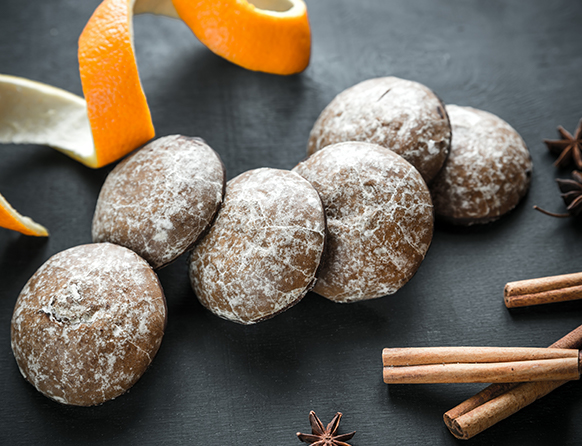 Brukowiec
Not only Torun has its gingerbread. In Masuria, during the Christmas period, the tables are ruled by "brukowiec". However, it differs from traditional gingerbread. It took its name from the fact that its top layer is made up of small, tightly adjacent balls resembling paving stones (Pl. "bruk").
If we're already on the subject of sweets, we can't forget about the Baumkuchen. Its ingredients are: real country eggs, butter without additives and good flour. But the ingredients are not everything.
It is baked on the fire, and two specialists for an hour and a half carefully turn and pour over the dough to obtain a dough weighing over 3 kg, whose taste is unique.