White sails stretched in the wind, sailing yachts on the shimmering surface of water is a view characteristic for Masuria.
The Land of a Thousand Lakes is a Mecca for sailors – lakes connected by canals create perfect conditions for swinging on the water and discovering places where man is in vain, where unspoiled nature is not only a cliché, and sunrises reflected in the water mirror remain in memory for a long time.
Sailing on water routes in Masuria is facilitated by a network of canals connecting several lakes between Pisz, Węgorzewo and Ruciane-Nida. The Great Masurian Lakes Trail is more than 130 km long (with branches to Ryn and Lake Nidzkie) and ensures sailing in the surroundings of lush nature, clean air and birds singing. Sounds awesome, right?
The Great Masurian Lakes Region is a part of the Masurian Lakeland, whose 486 sq. km of area is covered by lakes (which constitutes ¼ of our country's lake water resources). The White Sails or Great Masurian Lakes Trail leads through the biggest towns located directly on the lakes: Węgorzewo, Giżycko, Ryn and Mikołajki.
Get on board and off you go!
Giżycko
If we call it the sailing capital of Poland, nobody should be offended. In Giżycko there are about 10 ports on the Niegocin and Kisajno lakes. Ekomarina Giżycko is one of the most modern ports on the route. It's an ideal base for trips, and there are a number of Yacht Charter companies and boats in its vicinity.
The town itself also hides many interesting places worth visiting: fortifications of the Boyen Fortress, a water tower with a viewing terrace, elements of the Teutonic castle adapted for a hotel.
Sztynort
The port of Sztynort can berth several hundred yachts at the same time, it is the largest inland port in Poland. Here you'll find a beautiful area, the Baroque Lehndorff Palace and the legendary Zęza Tavern, where shanties resound from sunset until morning.
Panorama of the port in Sztynort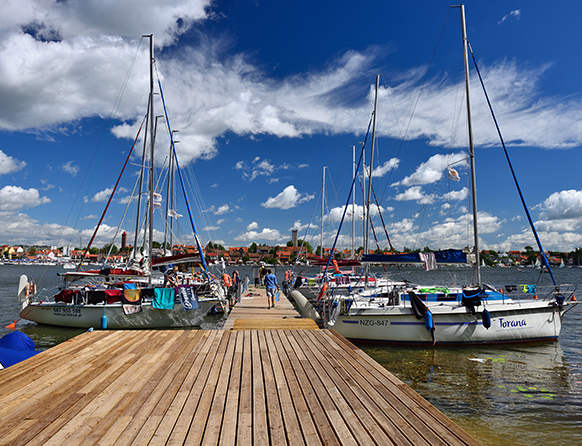 Sailing harbor in Mikołajki
Mikołajki
The unofficial centre of Masuria is bustling with life in the summer, and you can meet sailors here at every corner. Events, festivals and shanty concerts attract crowds of enthusiasts of relaxing by the water.
It will take a few days to cross the route of the great lakes, but if you want to discover the places on the route, try regional dishes and feast in the taverns, two weeks of holiday is the optimal time to spend by the Masurian lakes.
The main route of the trail (lakes):
Roś – Seksty – Śniardwy – Mikołajskie – Tałty – Tałtowisko – Kotek – Szymon – Jagodne – Boczne – Niegocin – Kisajno – Dargin – Kirsajty – Mamry