The most romantic places in the Warmia-Masuria province
Due to Valentine's Day, February is called the month of lovers, but in Warmia and Masuria, there are plenty of spots and attractions for the couples wanting to experience romantic moments, and that is all year round!
You can confess your love here
If you are looking for a unique place for professing your love or making a proposal, make sure you visit the famous Stańczyki Railway Viaducts. These spectacular structures striking with their unprecedented flourish resemble aqueducts erected in antiquity. There is also an observation tower offering breathtaking views.
Fot. Stańczyki Railway Viaducts
A bit of magic will come in handy sometimes
We stopped believing in superstitions and magic a long time ago, but sometimes there is no hurt in helping love a little. In this regard, the Devil's Stone in Bisztynek or the Spring of Love in Mrągowo should be perfect.
There are legends about the Devil's Stone saying that it fulfills wishes. You have to go around it twice clockwise, starting from the characteristic crack, thinking about your wish intensely.
In turn, while in Mrągowo, it is worth taking a walk along the shore of Lake Czos, reaching the Spring of Love featuring cold water with a metallic taste flowing from it. Legend has it that drinking water from the spring guarantees eternal love. You can also sit on a bench with your loved one, admiring the views and listening to the sounds of nature.
Fot. Ludwig Schneider https://pl.wikipedia.org/wiki/Plik:Bisztynek_Diabelski_Kamie%C5%84_001.jpg
The charm of ruins
Is there anything more romantic than the ruins of old-time palaces and castles? These make an ideal spot for a trip for two and for personal confessions. You will find a lot of ruins in the Warmia-Masuria region, but especially worth seeing are the Słobity Palace ruins, the castle on the Ełk Lake peninsula and the palace in Ponary. The region is also an ideal place for lovers of urban exploration, that is, visiting abandoned places.
Fot. Castle in Nidzica
Fot. Castle in Lidzbark Warmiński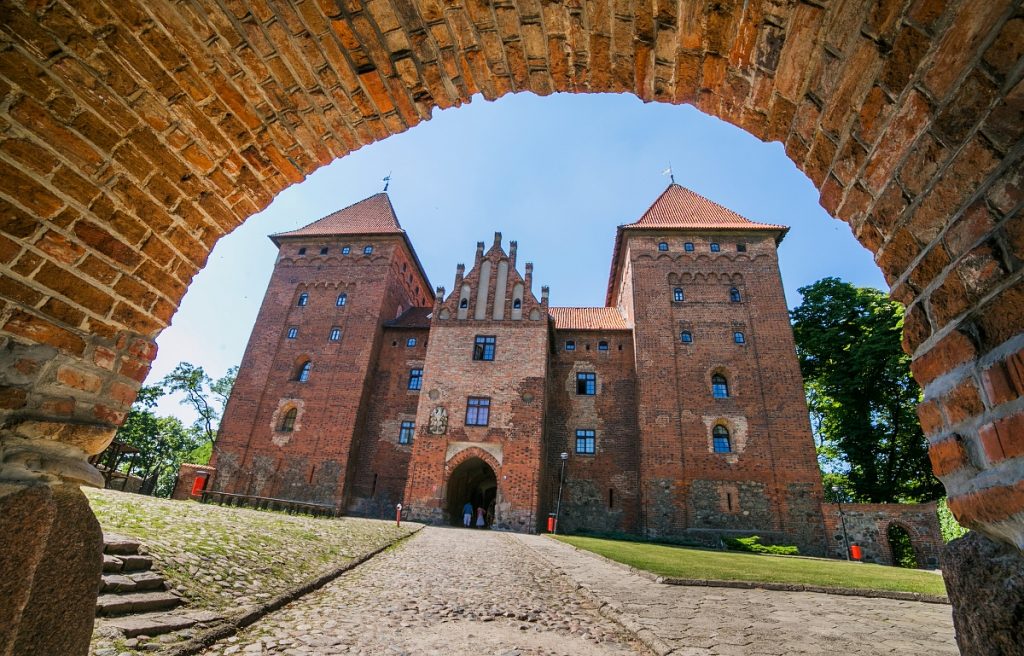 Castle in Nidzica
Churches and towers
We tend to unequivocally associate churches with a wedding, hence visiting them together lets your imagination run free and imagine your own ceremony. If the church additionally has a tower that you can climb to admire the beautiful views together, this is a very short way to successful engagement. We especially recommend visiting the Evangelical church in Rasząg with its captivating architecture straight from fairy tales, as well as the tower of the St. Nicholas Chruch in Elbląg, from which you can admire the panorama of the city.
Fot. Cathedral Basilica in Frombork.
Sunset for two
An evening walk and mutual admiration of the sun bending down towards the west, with its reflection appearing on the lake's surface is one of the most romantic ideas for spending time together. As the Warmia-Masuria region offers a plenitude of many beautiful lakes with secluded beaches, you will find a convenient place whenever you need it. However, we especially recommend visiting Szeroki Ostrów. It is a huge island on the biggest lake in the country, Śniardwy, which is connected with the mainland by a dyke. Overgrown with old trees and hardly penetrable, it is a unique sanctuary for those looking for a secluded place to admire the sunset with their loved one.
Fot. Mazury Garbate – Lake View, Szalone Walizki