Winter for the adventurous in Warmia and Masuria
Warmia and Masuria in winter are not only about charming landscapes but also excellent conditions for sports played on snow, ice and… water, offering a boost of adrenaline. If you are an enthusiast of adventures, we have a handful of suggestions for spending winter time actively in the region. Everyone is sure to find something they enjoy: winter swimming, ice diving, winter kayaking, leisurely ice skating or speeding along the ice on boats at speeds of up to 100 km/h.
Winter swimming
The Land of a Thousand Lakes is a paradise for lovers of outdoor bathing in winter. However, it should be noted that the name given to the region does not fully reflect reality. In Masuria alone, you can count about 2,600 lakes, and if we add to this the waters in Warmia and other areas that are part of the province, it turns out that there are nearly 3,000 lakes. And then there are also rivers which winter swimming aficionados are also eager to dive into. If you have not tried winter swimming yet, it is a good idea to take advantage of the experience of winter swimmers who are members of clubs that operate in many localities of the region. These include:
Kąpiący się Zimą – Morsy Olsztyn
Olsztyński Klub Morsów Iglo
Elbląskie Morsy
Ełcki Klub Morsów Arktyka
Ełckie Morsy Pogodoodporni
Giżycki Klub Morsów Zimny Ptak
Biskupieckie Morsy
Bartoszycki Klub Morsów Polar
Winter swimming does not require specialised personal equipment, although professionals advise to get protective shoes. Of course, if the lake is covered with ice, you will need a suitable device to cut an air hole. Although it is possible to go winter swimming without special physical preparation, it is worth consulting a doctor to confirm that there are no health contraindications for winter baths.
Ice diving
The winter life of the Masurian lakes is a marvel thanks to many phenomena — an unusual play of light under the icy surface, touching silence as well as visibility reaching up to 12 m in some lakes. Enthusiasts of winter diving particularly like the following lakes: Mamry, Niegocin, Kisajno, Wuksniki (the deepest in the region), Leleskie and Tałty. More information about ice diving can be found, among others, in the Mazurskie Centrum Nurkowe.
Cruising on ice
You can sail both in summer and winter. As soon as ice covers the lakes, speed and adrenaline lovers set sail. Mikołajki, Mrągowo and Giżycko are main ports of call for ice sailors. Ice yachts can reach speeds of over 100 km/h, so it is often said that they "glide" on ice. If you want to try your hand at this sport, then we recommend, for example, the Gospoda pod Czarnym Łabędziem (the Black Swan Inn), where you can find instructors and rent the necessary equipment. It is worth taking a ski suit or warm, waterproof trousers and a jacket, waterproof shoes, warm socks and gloves, a hat, goggles, helmet and… high spirits.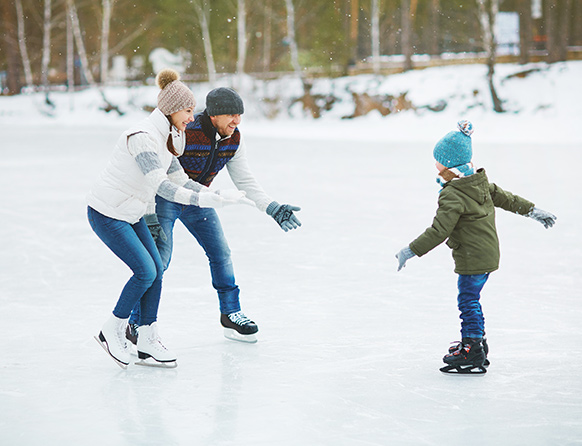 Winter in a kayak
If you are not afraid of frost and icy water, try your hand at winter kayaking. In Warmia and Masuria, such river rafting has been organised for years in the Łyna, Pisa and Ełk rivers, among others. The last of the three boasts a tradition going back more than 40 years. It is also worth noting the kayaking route down Łaźna Struga (the middle section of the Elk River) organised by Folwark Łękuk (Łękuk Farm). In winter, you can also go kayaking in Krutynia, the queen of Masurian rivers. Renting equipment and organising kayaking trips are offered by Stanica Wodna (Riverside Hostel) in Krutyń, among others.
Fot. Folwark Łekuk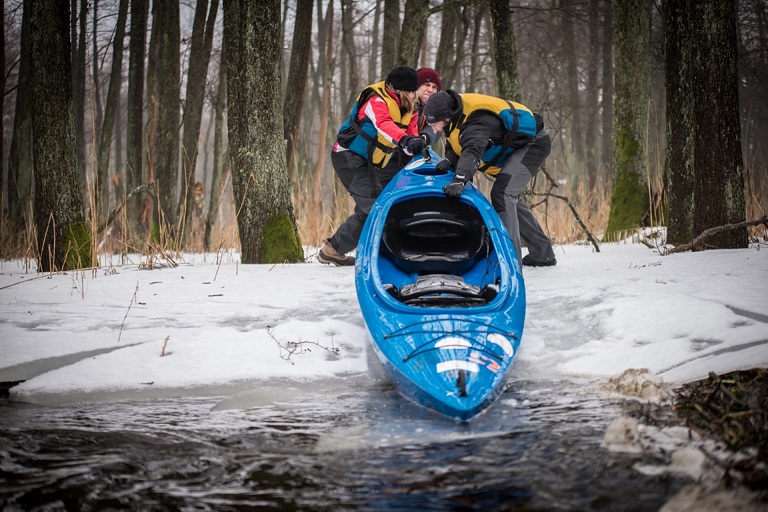 As you can see, blissful peace with tea by the fireplace is not the only thing winter in Warmia and Masuria has to offer as it also provides the opportunity to experience unforgettable adventures surrounded by beautiful nature. Adventures that are sometimes – literally – blood-chilling. So see you on the winter trails of Warmia and Masuria!