5 Monuments of Technology on the Copernicus Route
Nicolaus Copernicus chose Warmia as his place on Earth. It was here that his most celebrated works were created, and it was here that he pursued his career as a translator, diplomat, war strategist, cartographer, canon, medic, economist and, of course, astronomer.
The Copernicus Trail, which in the Warmian-Masurian province stretches for as much as 271 km, allows you to get to know the life of the great astronomer better and visit the towns linked to his life. The trail abounds in interesting and impressive monuments of technology.
The Elbląg Canal
Elbląg is the oldest city in the province and was once an important seaport. Copernicus used to visit here many times. The city marks the beginning of the Elbląg Canal, by which you can reach Ostróda and Iława. It is a unique waterway in the world, put into operation in 1862. On the Elbląg Canal, ships overcome a water level difference of about 100 metres with the aid of five slipways. You can read more about this hydrotechnical marvel here:
https://mazury.travel/poplyn-z-nami-statkiem-po-trawie/
https://www.zegluga.com.pl/
Museum of Modernity in Olsztyn
The "Museum of Modernity" Centre for Technology and Regional Development of the Municipal Cultural Centre in Olsztyn is the full name of the facility. The revitalised Raphaelsohn Sawmill currently houses exhibits related to the civilisational development of Olsztyn and the region, while in the neighbouring building of the trolleybus depot, commissioned in 2019, you can view temporary exhibitions, such as the display of communist-era motorcycles and cars.
https://www.mok.olsztyn.pl/muzeum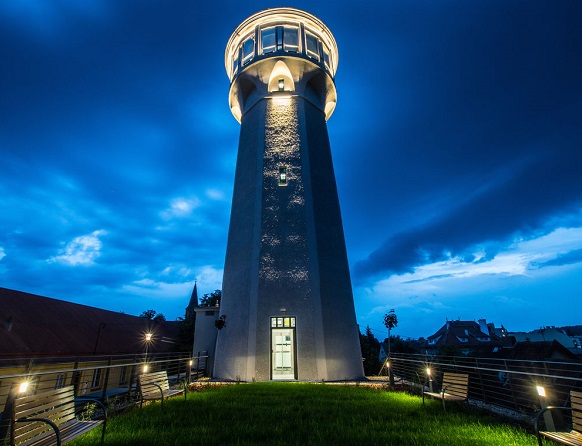 The Water Tower in Olsztynek
In Olsztynek there are sites that hark back to the times of the great astronomer: the Teutonic castle, the remains of the city walls and the 14th-century gothic church. The city's highlights worth visiting include the Museum of Folk Architecture – Ethnographic Park, the town hall, where the Multimedia Museum of the Stalag IB POW Camp and the History of Olsztynek operates, as well as the water tower from 1906. In 2020, the renovated 34-metre tower was made available to tourists. There is an observation deck at the top, allowing you to enjoy a panoramic view of the city and the surrounding area.
https://olsztynek.pl/zabytkowa-wieza-cisnien/
The Olsztyn Planetarium and Astronomical Observatory
The Olsztyn Planetarium was built in tribute to Nicolaus Copernicus. The facility holds screenings that allow viewers to find out more about astronomical phenomena, learn interesting trivia about the cosmos and about Copernicus' achievements. The observatory's collection includes a unique monument of technology — the Shortt clock. It is ranked among the most accurate mechanical clocks in the world. As part of the project "In the footsteps of Nicolaus Copernicus", the garden surrounding the observatory will be enriched with replicas of observational instruments used by the great astronomer: quadrant, triquetrum and astrolabe. There will also be a replica of a historic aerial telescope.
https://planetarium.olsztyn.pl/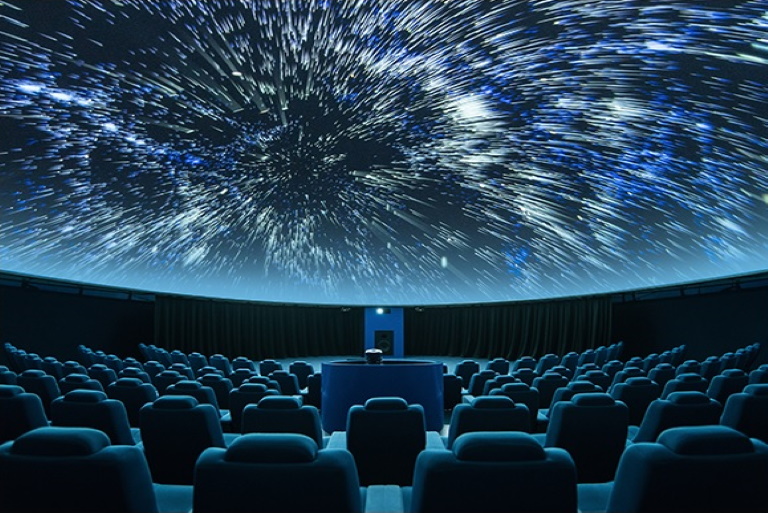 Warmia Chapter Castle with Copernicus' Astronomical Observation Table
Nicolaus Copernicus was the most famous administrator of the castle in Olsztyn. In the years 1516-1521, he served as the administrator of the estate of the Warmia Chapter. The castle houses one of the most interesting exhibits related to Copernicus' scientific work. An original astronomical table, which back in the 16th century was an unequivocally groundbreaking tool, has been preserved on the cloister wall. The table allowed to determine the apparent movement of the Sun on days close to the vernal equinox and was combined with a kind of sundial.
https://muzeum.olsztyn.pl/