Grunwald – here you will feel the history
The anniversary of the battle is approaching, of which the staging attracts the attention of history lovers and attracts tens of thousands of viewers. The Battle of Grunwald has been commemorated in literature, painting and cinema. Unfortunately, this year, due to restrictions related to the epidemic situation, the event will not be carried out. But this does not mean that you have to deny yourself a trip to the Grunwald Fields!
In summer, the pavilion of the Museum of the Battle of Grunwald operates here (a new, year-round museum is under construction). It was established on the 550th anniversary of the famous battle, i.e. in 1960.
Its largest permanent exhibition is entitled "The Great War with the Teutonic Order in 1409-1411". What is there interesting to see? Maps, plans, drawings, photos, as well as copies of medieval weapons – this is a real treat for enthusiasts of the Middle Ages.
Fot. Redakcja

Are you interested in archeology? Or maybe your kids dream of becoming explorers? Unique pieces of armoured gauntlets and other historical exhibits found on the battlefield await you in the museum.
You can also deepen your knowledge about the Teutonic Order and related events on the basis of the collected documents. It is also worth recalling the vision of the Battle of Grunwald from the film "Teutonic Knights", a fragment of which is shown in the cinema room.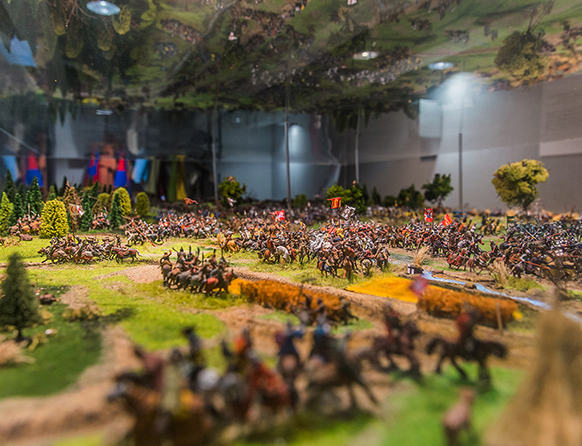 Museum of the Battle of Grunwald
Another option is to visit the Grunwald Fields with guides from the West Masurian Association of Guides, who are waiting for you every summer day. During the tour you will see the post-battle chapel and the Monument Hill. The guide will tell you about the battle and show you around the museum's exhibitions.
And that's not everything! The museum also organises many additional attractions (for a fee): bonfires, archery, fire theatre performances, horse riding shows, as well as artillery shows. More information can be found on the institution's website. Find out how exciting history can be. We wish you a wonderful experience!
Fot. www.grunwald1410.pl